Hammer & Hand is a metal & jewellery collective based in Hobart, Tasmania and Bangalow, New South Wales.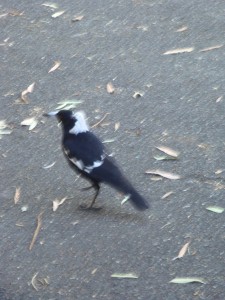 Mergatroid-Boid was spotted yesterday behaving in an 'explicitly' Girlish way with Nervous-Nelson … I was assured by Max that Mergatroid is definitely a girl !! So .. if there remained any ember of a doubt as to her sexuality .. It has been quenched.
Also ! Carl Quirk, fish-skin tanner from Hobart paid us a visit at the workshop !
Meanwhile .. while I await the arrival of my new Acetylene Regulator I have begun some 'self liberating bird men" and completed a couple more  'girls in shoes with butterflies'…
And !!… drum roll ..'rat-a-tat-a-tat-a-tat… Today is the first day of the 'Illuminated Flashing OPEN sign' !!
So come on in .. ..what else is there to do in Byron Bay anyway ? Jen Banks is at the bench today .. Have a look at her new pieces !