Hammer & Hand is a metal & jewellery collective based in Hobart, Tasmania and Bangalow, New South Wales.
We had two very popular one day Jewellery Making Workshops in June & July at Hammer & Hand. The Make my own Ring workshop was especially cool – well, check yourself what participants said about them:
I had such a good day at the workshop , very relaxed, great tuition and so awesome to leave with a ring that I am very proud of!
Thanks again and I look forward to my next step into the world of silversmithing! I am very interested in the 7 day course.
Thanks so much for an awesome day. I'm chomping at the bit to get started on my new hobby!!
I had such a great time. I would love to pursue making the rings again and practicing making more! 
Here are some of the awesome creations made by the students during the day: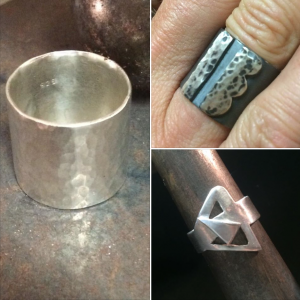 NOW – with such an interest in the Northern Rivers in learning true metal smithing Hammer & Hand will be running more one day workshops.
27 August (Sat) – Make your own ring – 1 seat left!
4 Sept (Sun) – Make your own Pendant – learn bezel setting!
18 Sept (Sat) – Make your own ring
We are also currently planing a 7 day workshop "Basics in Metal Smithing" stretched over several weekends in September / October, so stay tuned!
If you are urging for any date please contact mail@hauteboheme.com for details as we have only 3 seats per workshop and we want to plan you in!