Hammer & Hand is a metal & jewellery collective based in Hobart, Tasmania and Bangalow, New South Wales.
---
1 Day Workshops – MAKE YOUR OWN
---
---
Dates – 2nd Saturday/ month    LAST WORKSHOP before winter break  13 May
Whet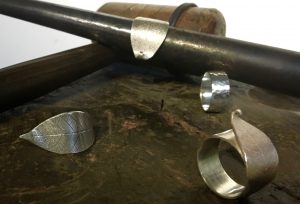 her its for yourself, a friend or family – find out how to make jewellery and craft a first ring or pendant on your own. This one day course is the perfect step into the world of jewellery making – packed with lots of new skills and excitement by the end of the day when you walk home with your own handmade unique piece of silver jewellery.
In this course you will learn the fundamental technics of jewellery making, like sawing, filing, soldering, sanding and polishing; and the use of the essential tools in a safe way and environment.  You will be able to choose from different designs for either women or mens jewellery.
Workshop 10-5pm   – Price 180 AUD (Ring) / 200 AUD (Pendant) – max. 4 participants
---
Register via email to mail@hauteboheme.com or follow Hammer&Hand events on Facebook.
Watch a video from past workshops and check out what participants said
I had such a good day at the workshop , very relaxed, great tuition and so awesome to leave with a ring that I am very proud of!
Thanks again and I look forward to my next step into the world of
silversmithing! 
Thanks so much for an awesome day. I'm chomping at the bit to get started on my new hobby!!
I had such a great time. I would really love to pursue making the rings again and practicing making them more! 
---
---
7 Weeks Course – BASICS IN METAL SMITHING
Next Course starting in September – October 2017 
---
This course is designed to really immerse yourself in to the world of jewellery making by learning all the basic skills and some more advanced practices of metal smithing.
In this course you will learn extensively the foundational techniques of sawing, filing, soldering, sanding and polishing; and the use of all relevant tools in a safe way and environment. Stretched over 7 weeks you will learn how to do bezel and pedestal prong settings, how to make link chains, how to use cold connections, different soldering techniques and how to do metal forming by using stakes and anvils.
You will make overall five different jewellery pieces either out of copper or recycled sterling silver by using wire and sheet metal. Additionally, you will also do your own project and develop and craft one of your own designs. At the end of the workshop you will walk home with six pieces of Jewellery and all the know-how to take your own steps as a Jewellery Maker. Whether it stays your passion or becomes more a profession you will have all the basic knowledge and skills to make your own hand made Jewellery. Do remember these are only the basics and with curiosity and continuous practice you will develop and refine your skills – learning and exploring in Jewellery Making will never stop.
Our video from the last course
• This 42 hour course runs every Saturday for 7 weeks starting again mid March. Timing is from 9am to 4pm with a lunch break.
• Total price for 7 days is 1590 AUD (payable in instalments). Price is including all materials, tools you use in the workshop and of course the morning tea. You will also receive an extensive work manual.
---
Join Thomas for this exciting journey into the world of silver smithing and walk home with stunning pieces of jewellery – make for the first time your own design from sketch to finished piece.
If you are interested or have questions please contact Thomas mail@hauteboheme.com or 0401 434949.